Welcome to Kennel of Dreams...Where quality dogs are bred with loving care.
I breed only AKC miniature Dachshunds. All puppies are sold without papers.
Colors bred are Red, Black & Tan, Chocolate and Tan, English Cream, Isabella and tan, and Blue and tan.
I breed the dapple and piebald patterns.
********************

* Puppy Adoption page *
*updated 6/28/19, check it out!*
********************
Parents Bella and Sherman

Born Feb. 10, 2020
Ready to go April 5, 2020
Three black and tan females.  Should be smooths but will know for sure by three weeks of age.  All have some white on chest, one has a white tipped tail.
*************************
Parents Joy and DocSon

Born July 13, 2019
Ready to go now.

Price reduced to $1100
Long haired Blue and tan male. Very sweet and active, likes people and loves to cuddle.  Someone is going to get a really nice dog!!! 
************************
Retired adults available.  Both males and females.  They would do best in homes without young children or cats as they have not been raised around them.  We are retiring in the near future and they need homes. Contact for more information.

All the adults have good temperaments.  All have their own special personality and are sweet dogs.

---
Precious 6yrs, blue and tan piebald smooth female. A real sweetheart.

******************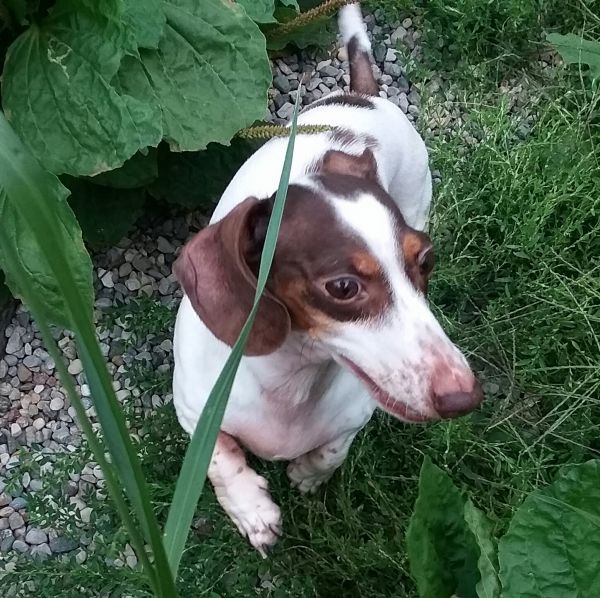 Dotty is a 6 yr. old chocolate and tan piebald smooth female.  She is a happy girl with no health problems.  She did have a minor back injury during her last breeding and since we couldn't give drugs to a pregnant dog she healed up well with Glucosamine and Salmon Oil.  Once her pups were born she has been dancing around ever since.  We keep her on Glucosamine to prevent any future injuries as all adult Dachshunds should be on Glucosamine to protect their backs.  I do not see her as a high risk for another back injury but she is a Dachshund.

********************

Keep your puppy healthy with
Life's Abundance
holistic dog food, supplements, chews and treats.
~~~~~~~~~~~~~~~~~
* Due to legislation we no longer ship puppies.*
* I no longer sell puppies as breeders.*

~~~~~~~~~~~~~~~~~
Contact by email:
carol@kennelofdreams.com
or by phone: 989-289-9737